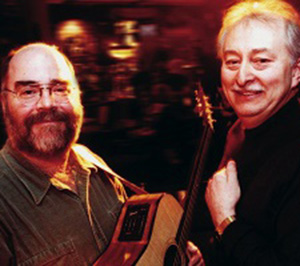 Who's Attending
60 people are attending Evans & Doherty
60 people are attending Evans & Doherty
Kevin Evans and Brian Doherty have been an integral part of the East Coast music scene for thirty years, twenty-six of those years as the popular duo Evans & Doherty. To capture the essence of an Evans & Doherty performance, take a lively blend of traditional, original and contemporary songs, add a liberal sprinkling of stories and humour, then sit back and enjoy these fine entertainers.
As a songwriter and producer, Kevin has enjoyed many successes. His song "Christmas Memories" achieved platinum status in Canada for John McDermott. He has also had songs recorded by Tommy Makem and Liam Clancy, and Canadian legend Stompin' Tom Connors. Evans & Doherty along with Jimmy Sweeney, have a recording titled "Sailing Ships & Sailing Men", the musical companion to a one-hour radio program written by the trio and broadcast on CBC's Atlantic Airwaves. The program deals with life at sea and the songs used by sailors while they worked.
Equally at home in a pub setting, concert hall, festival or convention, Evans & Doherty are first-rate musicians, singers, songwriters, promoters and producers. They also possess the ability to entertain any audience, any place, any time.