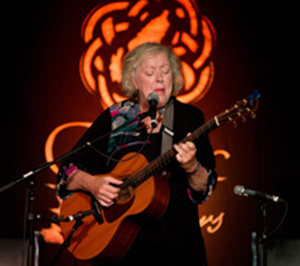 Who's Attending
51 people are attending Laura Smith & Kim Dunn
51 people are attending Laura Smith & Kim Dunn
Laura Smith's distinct singing voice has been a mainstay of the Canadian music scene for many decades now. Growing up in southern Ontario, she made the bold move to Cape Breton in the mid-'80s where she found a vibrant music scene and the ability to grow artistically. She has remained in Nova Scotia ever since and has a community of musical friends who are able to support her performances and, occasionally, are the sources of new material. Laura continues to hone her craft of song writing. Personal accolades include two Juno nominations, a Gemini award, and an Honorary Doctorate in Humanities to honour Laura's songwriting talent. She is probably most well-known for "My Bonny", her unique interpretation of the Scottish song "My Bonnie Lies Over the Ocean", a version of which she recorded with The Chieftains in 2010 which was named Song of the Decade by LiveIreland, the Irish Internet radio and TV enterprise.
North Sydneys Kim Dunn was the recipient of the first ECMA Musician Special Achievement Award for his work as a singer, songwriter, producer, arranger, musical director and pianist. His first solo record, Take This Hammer, was called a polished gem by The Chronicle Herald. He has performed extensively throughout North America and abroad and has worked with an A-list of artists including: Rita MacNeil, Bruce Guthro, Matt Inglewood, Alison Krauss, Jimmy Rankin, David Myles, Jill Barber, Dave Gunning and countless others.
Kims latest recording, Day By Day, picks up where Take This Hammer left off. As with its predecessor, Day By Day offers listeners an indelible collection of heartfelt, rootsy tunes anchored by a pitch-perfect tenor delivery and incomparable musicianship. This music is made to last and only gets better with each listen.