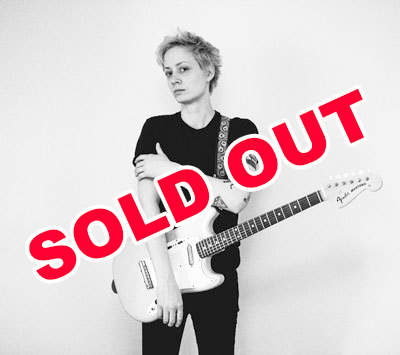 Some artists are reluctant to peel back the layers and let you see what's really going on inside their heads.
Mo Kenney is not one of those artists.
"The Details", Kenney's third album, comes as close as any recording I've ever heard to putting everything out there for you to see, to experience and to reflect on.
The 14 songs on this deeply personal set detail a series of events in Kenney's life when she was going through what must have been one hell of a rough patch.
Holding back little, if anything, the Halifax- based singer/songwriter addresses relationships in her life that have fallen apart, her experiences with depression, emotional breakdowns fuelled by the excessive use of alcohol and the impact all of this was having on her as a person and as an artist.
While that may sound a trifle dark — on "Punchy" for example she sings about being punched in the face at a bar by some jackass — there is also a light at the end of the tunnel as Kenney deals with the hand she's been dealt. She ultimately comes through it all and comes through it a stronger person for the experience.
Producing a concept album that connects all the dots in your life can be a daunting task but Kenney has serious writing chops, as she so aptly demonstrated on her eponymous debut record in 2012 and her sophomore effort "In My Dreams" in 2014.
The "Details" packs a lot of emotions into a record that runs just over 30 minutes.
It is a record of many moods, many colours and many shades and there are more than a few moments when you wonder how she made it through to the other side at all.
And the music underneath all of this  is every bit as interesting as the lyrics Kenney penned to tell her story.
There's a fair bit of flat-out rock'n'roll, a smattering of psychedelia, some dreamy pop music and some zippy stuff that reminds me just a little bit of Joan Jett. Some records take a little time to grow on you but "The Details" got me the first go round and tracks like "On The Roof", "Unglued", "I Can't Wait" and the all-too-brief "Counting" brought  me back for more.
And the more I went back the better the experience became because I began to hear new things, things I didn't hear the first time through. Perhaps I got so wrapped up in the lyrics I missed some of the things that were happening musically.
This record is solid.
It's brutally honest, at times, a little jarring in places, but there are moments of lightness and humour, albeit black humour.
Kenney produced the record with good friend Joel Plaskett, who also co-wrote Unglued. He also contributed most of the drums and bass tracks. Kenney played all the acoustic and electric guitar parts and she really wailed on some of the electric stuff. She also played keyboards.