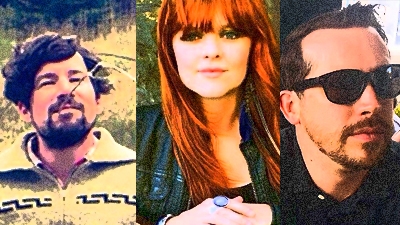 An evening of storytelling and songs, featuring Carmen Townsend, Ian MacDougall, & Victor Tomiczek
Carmen Townsend is known for her gunning riffs, soaring vocals, and empowering live shows, Cape Breton's Carmen Townsend has been performing since the age of 15 and has wowed audiences all over the world with an incomparable sound that is undeniably her own. She is a multi-award winning rock artist in a male dominated genre. In a world full of singer/songwriters, it is her birth right to rock. Carmen's award winning debut album was named Album of the Year at Nova Scotia Music Week and landed her on stage in front of thousands supporting female rock legends, Heart, all over Canada. She has lent her voice to many projects including Matt Mays' Juno winning Album, Coyote. Carmen continues to perform regularly and is currently working on a new release.
Ian MacDougall holds a strange and unassuming presence on the East Coast musical landscape. Fronting his internationally acclaimed, musically obese, Cape Breton institution The Tom Fun Orchestra, Ian has spent years touring around the world bringing epic anthems and odes to packed clubs, massive festivals and empty taverns. He has shared the stage with a curious array of musicians ranging from Primus to Fred Eaglesmith; Julie Doiron to The Men of the Deeps. Outside of the successes and excesses of Tom Fun, Ian has developed a catalogue of songs that read like a hazy surrealist commentary of life and lure on Cape Breton Island.  By himself, these songs stand truly engaging. His complicated musical lulls of ennui and frustration find solace in triumphant melodies of reckless elation. Sometimes. Sometimes it's something else all together.
Victor Tomiczek is a singer-songwriter from Dominion, Cape Breton. He plays banjo and guitar in The Tom Fun Orchestra and leads the Sydney-based rock group Ladyslippers. Victor's songs range from tales of working class strife to whimsical flights of fancy and all the high, low, and in between. Victor is currently working on his first solo album. He lives in Sydney with his wife, daughters, kitties, and dog.
Full Bar till 11PM & Kitchen Service till 9PM
Ages 19+