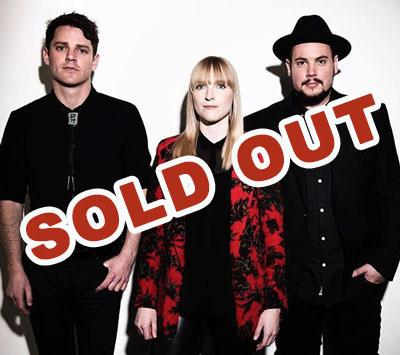 In the brief period of time since Port Cities unleashed their incendiary debut—a wildly self-assured collection of sparkling, rootsy pop that showcases the Nova Scotia trio's devotion to songwriting—the band's been hard at work bringing it to the masses. They've continued to explore and evolve their ambitious pop sound, melding diverse musical backgrounds to create an alchemy that's part art, part songwriting science, and all magic: the nimble dynamism of Breagh MacKinnon's smoky, jazz-indebted delivery, Dylan Guthro's simmering and soulful R&B swagger, and Carleton Stone's razor-sharp, romantic rock 'n' roll. In 2018, that memory-making mix of unforgettable melodies, high-flying harmonies, and electrifying heart on Port Cities is set to reach audiences worldwide.
It's a chemistry that's been perfected during the 100+ dates they've toured in the past year, in hotel rooms and songwriter circles, in vans rolling through foreign countries to rowdy pubs, and on the fog-bound shores of Canada's misty east coast. It's helped lead the band to numerous accolades, including a whopping five Nova Scotia Music Awards, a SOCAN #1 Award (for "Back to the Bottom"), and stints at #1 on CBC and Spotify charts. Port Cities has amassed over 1.5 million streams internationally, showcased at The Great Escape, Focus Wales, and the Reeperbahn Festival, and will be releasing their debut in the U.K. and Germany this year.
Beyond Port Cities' deep devotion to their craft, their success is largely built on a simple but timeless approach: a good song is a good song is a good song. Whether it's awash with synthesizer ("Sound of Your Voice"), pumped up with an overdriven crunch ("Where Have You Been"), or stripped down to the bare essentials with just an acoustic guitar and three voices. No matter what music the melody might call for, the best song always wins.
Ages: 19+