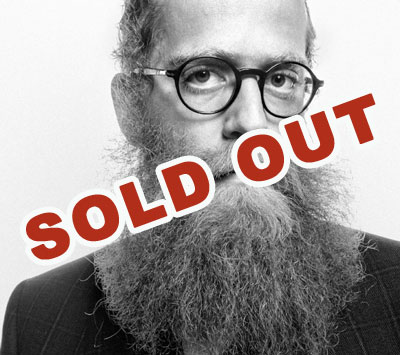 2019 ECMA Songwriter of the Year winner Ben Caplan leads off our Summer Series July 3rd.
Ben Caplan is a songwriter, performer and entertainer in the most time-honoured sense of the word. From the moment he walks onto the stage, you are filled with his infectious spirit, and captivating presence. You can feel Caplan's comfort and ease as he strides in front of the crowd and begins the controlled collective descent into chaos.
In his latest project, Ben Caplan explores themes of immigration, loss, darkness, love, sex, and God. Caplan is touring with a fresh batch of songs which were originally composed for a new musical play called Old Stock: A Refugee Love Story. The award winning play had its international debut at the Edinburgh Fringe Festival where it won top festival honours, and has been a smash hit. The play has toured internationally including a seven-week run Off Broadway where it picked up a New York Times Critic's Pick, and six Drama Desk Award nominations, among other accolades.
Between performances of the play, Caplan has been hitting the road to play concerts across Europe, Australia, and North America with a new lineup of musicians. The music from his theatre production has been turned into Caplan's third studio album, titled Old Stock. The sound is rooted in Caplan's resonant baritone voice, supported with the sounds of piano, accordion, organ, clarinet, saxophone, violin, drums, and the occasional banjo and acoustic guitar.
Ages: 19+