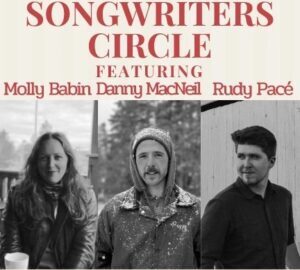 Featuring: Molly Babin, Danny MacNeil & Rudy Pacé
Molly Babin is a Cape Breton based singer songwriter who is always working on projects meant to connect with other musicians. Over Covid, Molly released a series named "Virtual Jams" where she did virtual video collaborations with local musicians like Jordan Musycsyn, Wayne Bedecki, Aaron Lewis and twelve others. Molly is also the co-founder of "Open Doors: Cape Breton Women In Harmony", which is a group aimed at encouraging, supporting and promoting female musicians in Cape-Breton.
Rudy Pace is a Halifax based singer songwriter from Cape-Breton. Rudy is a dedicated East Coast Canadian songwriter who's been compared to legends such as Townes Van Zandt, Bob Dylan and Neil Young. He is also the host of the Carleton's "Campfire Songwriters Series" which showcases some of Nova-Scotia's best up and coming songwriters.
Cape-Breton singer-songwriter Danny MacNeil is a confessional folk artist, with songs influenced by the continuous struggle for contentment and true peace of mind. Danny has spent the last number of years learning the skills of carpentry. During this time, music has remained a vital component of Danny's life. Despite the busy work and education schedule, he has begun a beautiful piece of musical craftsmanship in his new album, including his single "Ten Hour Day" released this past June and his upcoming single "Trouble That I'm In" being released on November 18th.
$10 at the door (put on your tab). Ages 19+. Full bar service and kitchen open till 9PM. Covid 19 rules and regulations are in play.